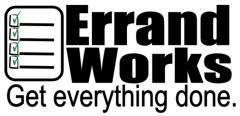 ErrandWorks.me is more than just a platform; it's a vibrant community of service providers making a real difference in the lives of busy individuals and families. If you're a vendor looking to expand your business and connect with a growing customer base, you're in the right place. In this blog post, we'll explore why joining ErrandWorks.me is a smart move for your business and how it can benefit you in more ways than one.
What is ErrandWorks.me? ErrandWorks.me is a comprehensive platform that connects service providers with customers seeking a wide range of services. From grocery shopping and pet care to handyman services and event planning, ErrandWorks.me covers it all. Our mission is to make life easier for individuals and families while supporting local businesses like yours.
The Variety of Services You Can Offer: As a vendor on ErrandWorks.me, you can provide a diverse range of services, including but not limited to:
Grocery Shopping
Pet Care
Handyman Services
Event Planning
House Cleaning
Personal Assistance
Errand Running
Home Repairs
And many more!
Our Support and Tools: ErrandWorks.me provides you with a suite of tools and resources to help you succeed:
User-Friendly Platform: Easily manage your appointments, communicate with customers, and track your earnings through our intuitive platform.
Marketing Assistance: Leverage our marketing efforts to reach a broader audience and attract new customers.
Customer Support: Our dedicated support team is here to assist you with any questions or concerns.
The Benefits of Joining ErrandWorks.me:
Expanded Customer Base: Connect with a vast network of customers actively seeking the services you offer.
Increased Revenue: Grow your income by taking on additional jobs through the platform.
Flexibility: Set your own schedule and availability to suit your business needs.
Local Exposure: Become a trusted service provider in your community and gain local recognition.
Reduced Administrative Hassles: Focus on what you do best while we handle appointment management and communication.
Join Us Today! Are you ready to take your business to the next level and become a valued member of the ErrandWorks.me community? Signing up is quick and easy, and the benefits are endless. Don't miss out on the opportunity to grow your business, serve your community, and enjoy the advantages of being part of our dynamic platform.
Conclusion: ErrandWorks.me is not just a platform; it's a community where vendors thrive and customers find trusted service providers. By joining us, you open doors to new opportunities, increased revenue, and the chance to make a real impact on the lives of others. Don't hesitate – sign up today, and let ErrandWorks.me help you reach new heights in your business journey. Join us in making life easier for everyone!